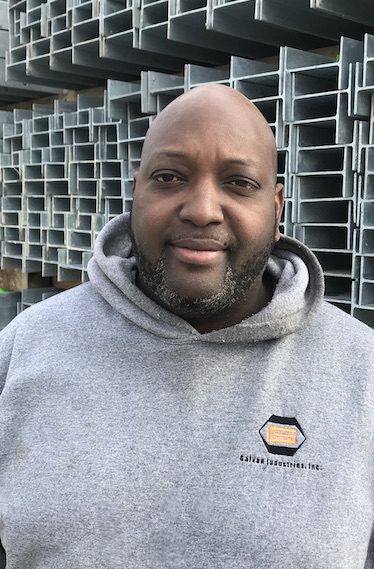 Nharu Wright, production manager for Galvan Industries, has led the company's hot dip galvanizing operations since 2019.
At Galvan, Nharu directs and manages plant operations for production, quality control, shipping and receiving. He develops production schedules to meet internal goals and customer expectations, while motivating and leading plant employees to put out good quality work as efficiently and safely as possible. All this adds up to one thing.
"I spend all day ensuring the customer is happy," Nharu says.
Prior to joining Galvan, Nharu built an impressive resume of more than 20 years production experience, including stints as Production Manager at Saertex in Charlotte, NC, and Mannington Mill in Conyers, GA, overseeing and providing professional development for scores of indirect reports, shift supervisors and team leaders in large multi-shift operations.
"Most of my career has been in a production environment," he added, "which I enjoy because every day is different and another day to be better than yesterday."
Working to make every day better than the day before is one reason Galvan customers come back again and again.
"Galvan is a growing company. Nharu's focus on improving how we meet all our customers' needs will help us keep growing into the future," says company president Laurens Willard. "His years of of experience and capabilities make him a major asset for our customers."
Nharu is a graduate if John T. Hoggard High School in Wilmington, NC and holds certificates in leadership, training and business software applications.
Away from work, Nharu enjoys small home improvement projects and spending time with family and friends. "Cooking is my thing," he says. "I love bringing family and friends together over a good meal with fun and laughter."