get maximum galvanizing service
MAXIMUM LIFT CAPACITY 30,000 LBS.
(CALL FOR CONSULT OVER 12 TONS)
SINGLE DIP GALVANIZING: 42 FEET
DOUBLE DIP: UP TO 83 FEET (SEE CHART)
WIDEST PIECE CAPABLE OF GALVANIZING: 14 FEET
MAXIMUM TONS PER HOUR THROUGHPUT: 23 TONS/HR
Galvanizing: The Forty Year Solution To Corrosion Control

Hot dip galvanizing provides steel with long-lasting protection against corrosion. Properly galvanized steel can last 40 years or more without maintenance.
Great service is long-lasting, too. For 60 years, Galvan Industries has provided the ultimate in corrosion control to steel fabricators and manufacturers throughout the Southeast. Founded in 1958, Galvan was the first hot dip galvanizing operation in the Carolinas.
Keeping pace with increasing customer demand has meant regular investments in facilities and equipment, but at Galvan, we've taken the necessary steps to become – and remain – the largest capacity contract galvanizer in the Southeast.
Our objective is to give you high quality, fast delivery and personal service for all your galvanizing requirements
Progressive Dipping Or Double Dipping

Galvanizing Large Steel Structures
Galvan Industries' hot dip galvanizing kettle is 42′ long x 4'6″ wide x 8'6″ deep. The large bath size, in conjunction with modular design techniques and "progressive" or "double dipping" will allow almost any structure to be galvanized with greatly reduced maintenance costs and extended life.
When a fabrication is too large for single immersion it may be possible to galvanize it by progressive dipping, immersing one end of the work at a time in the galvanizing bath.
The Galvanizing capacity chart below indicates the maximum length of structural sections capable of being galvanized at this facility. The depth of section is indicated along the vertical axis and the corresponding maximum length is shown on the horizontal axis.
Note: These sizes are theoretical maximums for length and depth. Please contact Galvan Industries on fabrications that approach the extreme limits shown.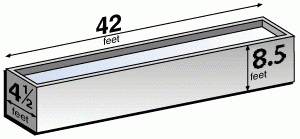 Blast cleaning is the ideal cleaning process prior to forming, shearing, rolling, painting or galvanizing.
Blast cleaned steel reduces wear on shears, punches and roll-formers by removing abrasive mill scale. This can allow immediate painting. Blast cleaning also eliminates the need for post fabrication cleaning process.
At Galvan, the blast cleaning process is computer controlled with automatic loading and unloading. Our blast cleaning cabinet accommodates materials up to 36″ in diameter in any lengths (see diagram below). The steel shot used produces a smooth, clean surface ready for painting.
For work pieces too large for the shot blast cabinet, hand sand blasting with abrasive grit is available.
All work is processed to SSPC or NACE Specifications. Steel Structures Painting Council Specification, SSPC-10 (near white) is normally produced on the first pass.
Blast cleaning Specifications

SSPC No.

Description

NACE No.

SP-7

Brush-off Blast

4

SP-6

Commercial Blast

3

SP-10

Near White Blast

2

SP-5

White Metal Blast

1

SP-8

Pickling

NA
Blast Cleaning Capabilities

Plate
Pipe
Flats
Angels
Channels
Castings
Fabricated Structural Shapes

Blast cleaning cabinet dimensions
Our "Blast & Cut" service is great example of "value-added service". Blast & Cut saves you time and money, making the most of your steel assets.
You can send us your steel straight from the mill. Or rusted and covered in mud from months in your storage yard. Our computer-controlled shot blasting process will produce a smooth clean surface – SSPC 6 or SSPC 10. We'll apply a water miscible corrosion inhibitor for rust-free storage. After this step, we'll re-bundle your steel. Then, we'll cut it to length so that it is ready for the next step in your process. We can make minor modifications like drilling, too. We'll even pick up and deliver for you on our trucks.
Full Transportation Service

Did you know Galvan can provide transportation for your materials to our plant for galvanizing and then deliver them directly to a job site? It's true. We'll even drop a trailer at your location and pick it up when it's ready. We operate a fleet of semi and short trucks to specifically for pick-up and delivery services.
If your facility or job site is beyond a one day drive, we are happy to handle or quote transportation of your materials using our network of carrier partners, saving you time and money. Located just 12 miles north of Charlotte, NC, our plant is equidistant from New York, Chicago and Miami.
Our customer service representatives will make sure your inbound and outbound shipping suits your project and your schedule, local or long distance. Galvan is committed to meeting all your service requirements.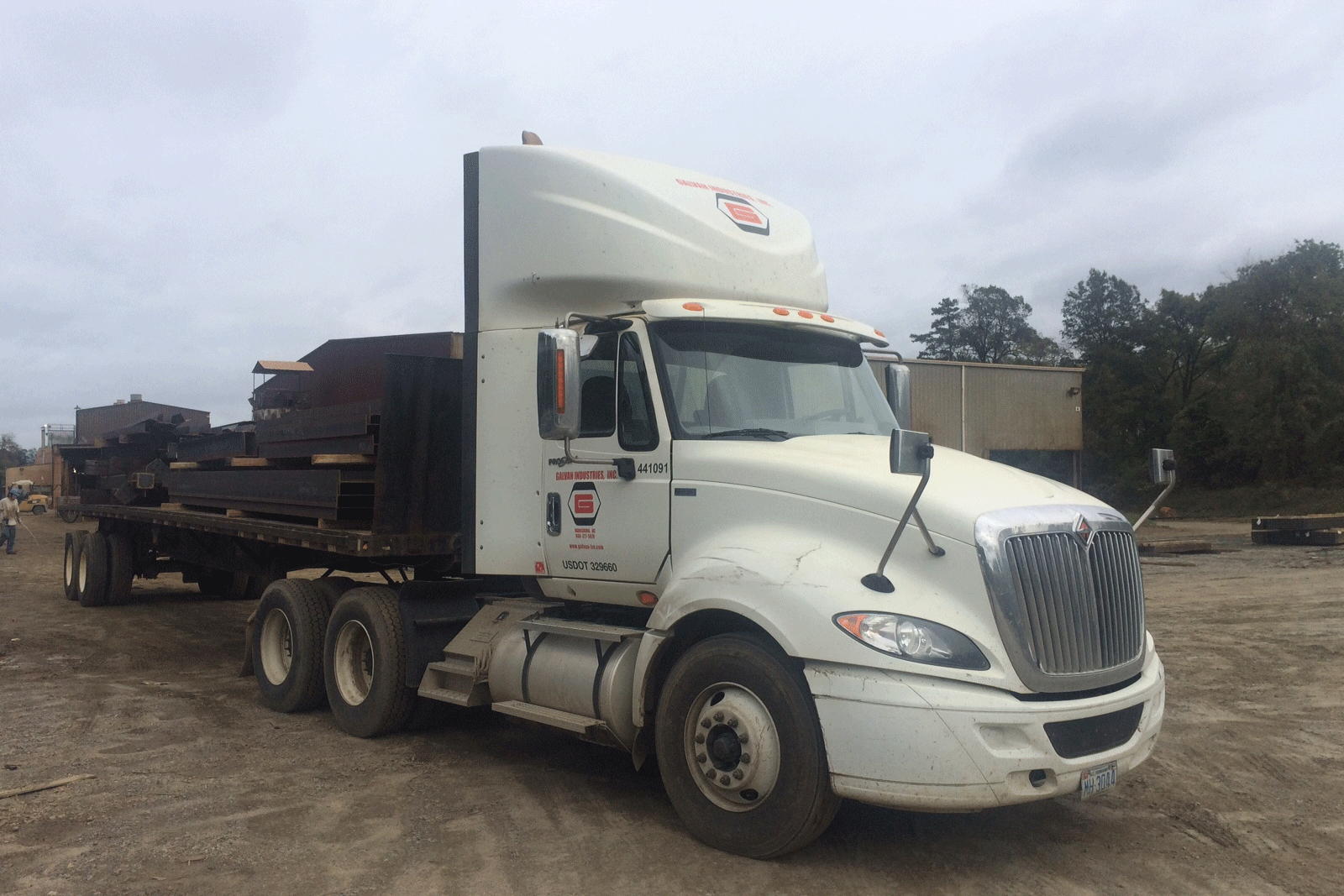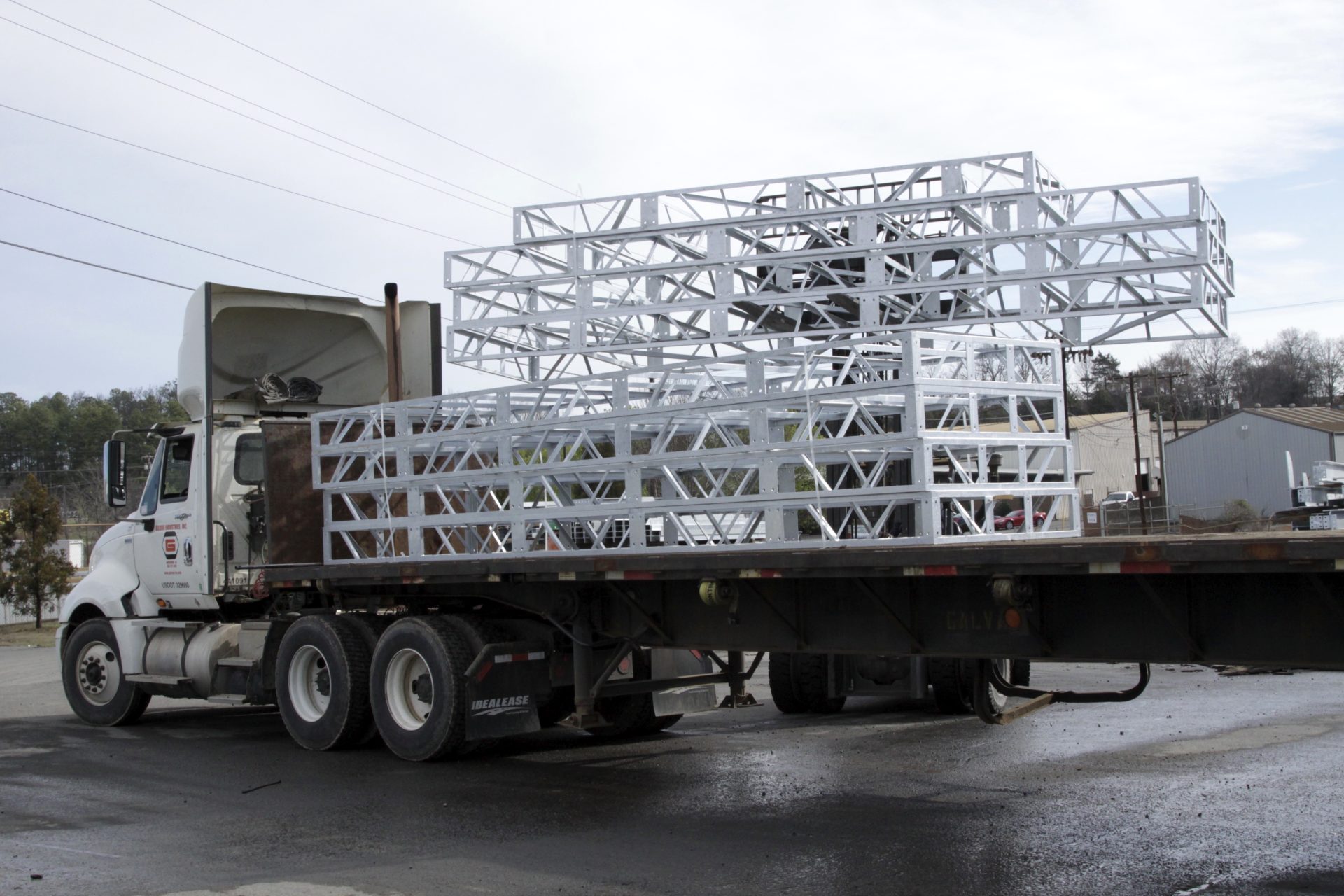 STORAGE CAPABILITIES AND MORE
Galvan is the only galvanizer in the Carolinas offering railcar loading and unloading capabilities, plus blasting, cutting, 35 acres of storage, and other value-added services that can boost your profits. Galvan is committed to safe, careful unloading and handling, no matter how your steel arrives.
Our rail capabilities reduce shipping costs substantially on pieces 60 feet or more in length or traveling more than 300 miles.
They also create opportunities to increase your profits with mill-direct shipping to our plant. Once it arrives, we can:
blast clean your steel,
cut it to any length,
drill it as needed,
hold it on our 35 acre storage yard,
galvanize it to ASTM specs, and
ship it for you to one job site or multiple locations by truck or rail.
We're more than just a galvanizer. We're a value-added partner in your steel business.
Galvan Industries Quality
Our Quality Control and Assurance Program conforms to Nuclear Quality Assurance requirements. Our in-house program was developed during production of nuclear safety related products, and was one of the first to conform to the American Galvanizers Association Recommended Standards. We were instrumental in our Trade Association's development of a Q.A. program and strongly support its use. Our finished products conform to ASTM, AASHTO, SSPC or Mil Specs.
Examples of what we regularly handle:

Angles

Fence Posts

Platforms

Beams

Grating

Stair Treds

Boat trailers

Handrails

Structural steel

Columns

Pipe

Transmission poles

Fastners

Plates

Wire mesh
Quality Assurance


At Galvan, surface preparation, fluxing and galvanizing are performed to applicable industry standards.This process consistently produces high quality galvanizing coatings to the most exacting customer specifications.
All products pass our in-house Quality Control and Assurance Program to insure that the coating is in compliance with specifications. Our work conforms to ASTM, AASHTO, or Mil Specs. Certifications provided upon request.

Galvan is a member of the American Hot Dip Galvanizers Association and is involved in developing industry-wide standards for galvanizing quality.