When it comes to material selection for projects requiring long design lives, more owners are turning to ASTM A767 Class 1 hot-dipped galvanized rebar due to its proven durability during fabrication and installation and its 100-year design life due to the robust thickness of the galvanized coating.
Rhode Island DOT is using ASTM A767 Class 1 HDG rebar for the construction of the Route 6/10 Interchange, the largest design-build project in the state's history. A767 HDG coating thickness gives it 3x the durability of CGR or epoxy-coated rebar – 100-year life – and makes it a superior value to stainless steel rebar.
Growing Demand for HDG Rebar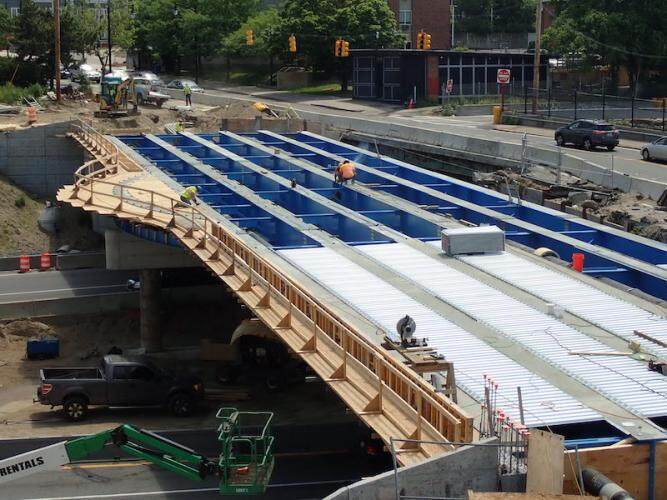 In addition, Connecticut DOT is now requiring ASTM A767 Class 1 in all its future bridge designs. The NYS Thruway Authority – which has specified hot-dipped galvanized rebar for its bridges since 1995 – recently used 80 million pounds to construct the iconic Governor Mario M. Cuomo Bridge (across the Hudson River (shown upper right), a "bridge designed so that major maintenance would not be necessary for at least 100 years."
To learn more about ASTM A767 hot-dipped galvanized rebar, visit the Hot-Dipped Galvanized Rebar Alliance at www.100YearStrong.com. The Alliance represents the expertise and experience of North America's leading providers of hot-dipped galvanizing services and products, including Galvan Industries, Inc., New Jersey Galvanizing And Tinning Works, Inc., Connecticut Galvanizing, CORBEC, Metalplate Galvanizing, L.P., and Hubbell Galvanizing.
About Galvan Industries, Inc.
Since 1958, Galvan Industries has provided the ultimate in corrosion control to steel fabricators and manufacturers. The first hot-dip galvanizing operation in the Carolinas, the company has grown to become the largest capacity contract galvanizer in the Southeast.
For details, or to place an order, call Galvan Industries at (704) 455-5102, Fax (704) 455-5215; e-mail:  sales@galvan-ize.com.