Four examples of Galvan Industries' excellence in hot dip galvanizing have recently been added to the American Galvanizers Association's (AGA) online Project Gallery. They include two recent projects and two that demonstrate a lifetime of aesthetic value and corrosion protection.
The new AGA Project Gallery selections represent Galvan's work for Charlotte-area landmarks Legacy Union Tower, Charlotte Motor Speedway, and Bank of America Stadium as well as the Kimberly Hampton Memorial Library in Easley, SC.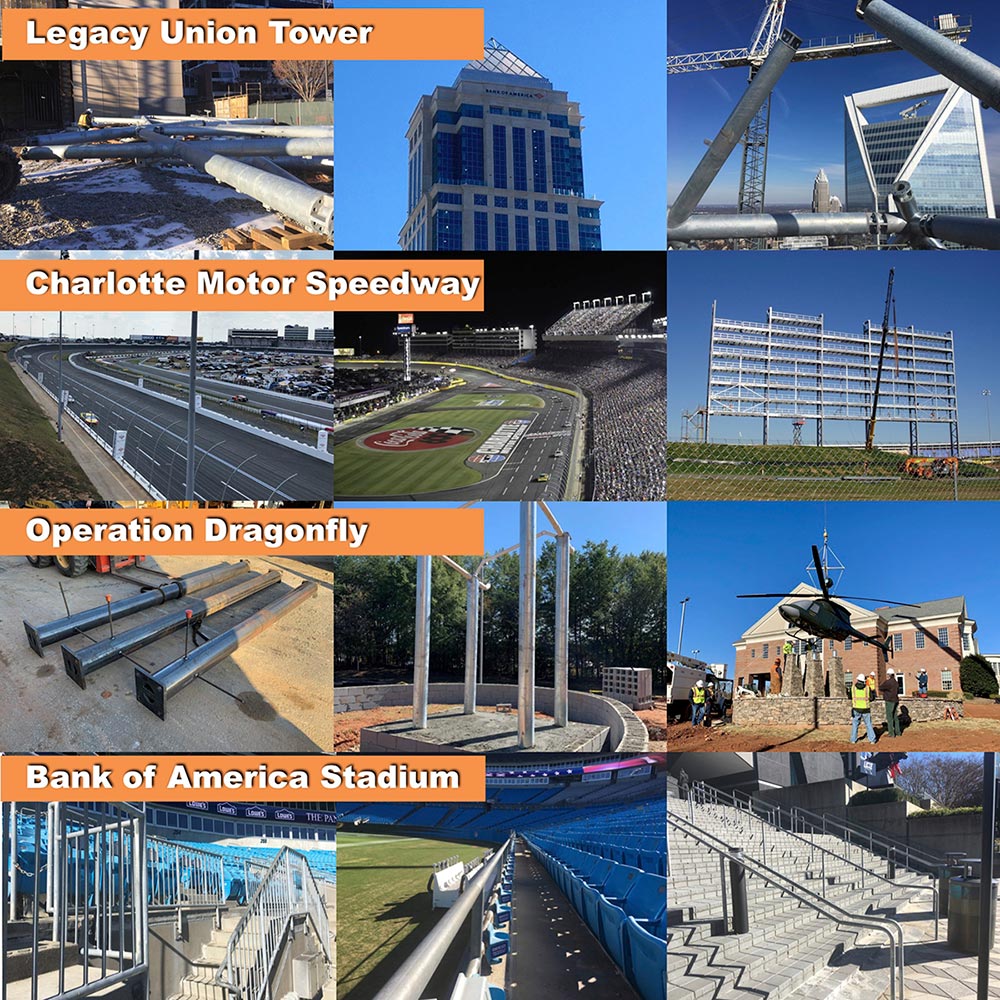 Hot dip galvanizing by Galvan Industries was chosen to protect the beauty and integrity of the steel in the Legacy Union Tower's roof-top pyramid. More than 100 tons of uniquely designed structural steel elements were carefully dipped in molten zinc. The result is a lustrous finish and protection against rust and corrosion that will last a lifetime.
Charlotte Motor Speedway is in the AGA Project Gallery for Lifetime Achievement. Since the 1970s, CMS has installed 4,550 tons of hot-dip galvanized steel in grandstands, lights, catch-fence, barrier walls and the frame of its giant HDTV display, much of it from Galvan Industries.
Bank Of America Stadium is also in the AGA Project Gallery for Lifetime Achievement. When the Panthers' stadium was built 24 years ago, all handrails throughout were hot dip galvanized by Galvan Industries. Today, they show little wear and could go another 25 years without maintenance.
Operation Dragonfly, the effort to create a monument honoring Captain Kimberly Hampton, the first female pilot killed in the war in Iraq, has landed at the AGA Project Gallery, as well. The monument outside the Kimberly Hampton Memorial Library in Easley, SC includes a military helicopter of the type flown by Capt. Hampton in Iraq, held aloft by galvanized steel. The galvanizing was donated by Galvan Industries.
Galvan has been trusted for decades with high-visibility, high-profile projects and recognized nationally for quality. Contact National Sales Manager Ben Kelly today to put Galvan to work for you
About Galvan Industries, Inc.
Since 1958, Galvan Industries has provided the ultimate in corrosion control to steel fabricators and manufacturers. The first hot-dip galvanizing operation in the Carolinas, the company has grown to become the largest capacity contract galvanizer in the Southeast.
For details, or to place an order, call Galvan Industries at (704) 455-5102, Fax (704) 455-5215; e-mail: sales@galvan-ize.com.