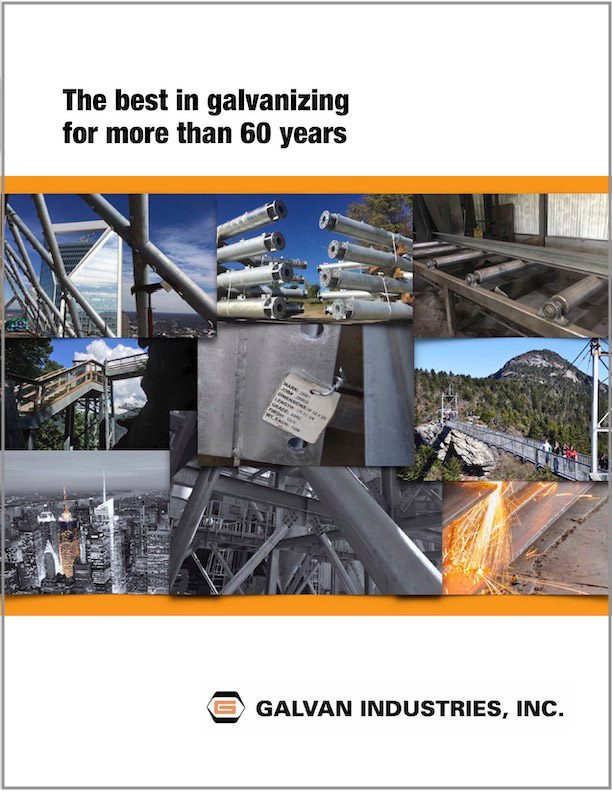 Galvan Industries is introducing a new hot dip galvanizing digital brochure that provides a complete review of the company's capabilities and useful technical information plus links to projects, videos, downloads and more.
Galvan has offered the best in galvanizing for more than 60 years. Founded in 1958, Galvan was the first hot dip galvanizing operation in the Carolinas. Keeping pace with increasing customer demand has meant regular investments in facilities and equipment year after year. Today, Galvan is one of the largest capacity contract galvanizers in the Southeast.
Our new digital brochure includes all the details on our award-winning galvanizing service, blast cleaning, transportation, Kettle Tags®, seminars and more. Check it out now!
About Galvan Industries, Inc.
Since 1958, Galvan Industries has provided the ultimate in corrosion control to steel fabricators and manufacturers. The first hot-dip galvanizing operation in the Carolinas, the company has grown to become the largest capacity contract galvanizer in the Southeast.
For details, or to place an order, call Galvan Industries at (704) 455-5102, Fax (704) 455-5215; e-mail: sales@galvan-ize.com.