Legacy Union is a 10-acre, mixed-use development between Tryon Street and Bank of America Stadium that will will be home to a mix of Class A office space, retail and other development.
The first phase of Legacy Union features a 33-story office tower of stone and glass, set for completion in the first quarter of 2019. A glass-and-steel pyramid will cap the building, making it a landmark on the Charlotte skyline.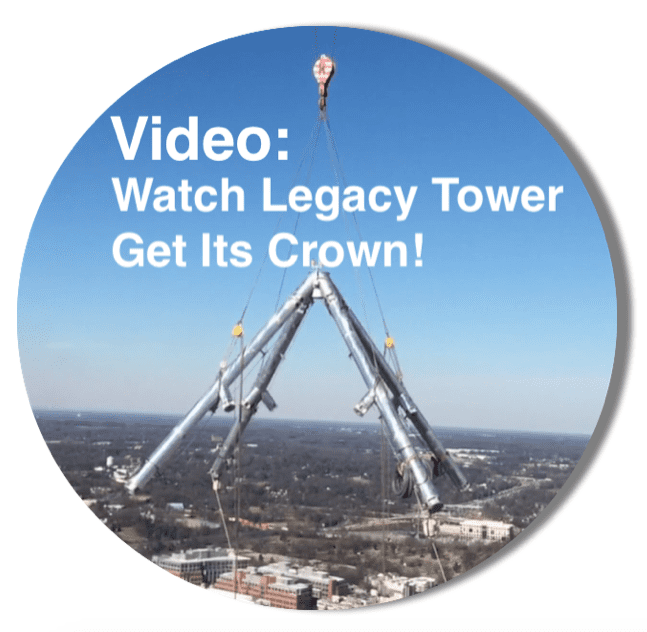 Galvan Industries was chosen to protect the beauty and integrity of the steel used in the tower's roof-top pyramid. Hundreds of tons of uniquely designed structural steel elements were were carefully dipped in molten zinc in Galvan's large galvanizing kettle. The result is a lustrous finish and protection against rust and corrosion that will last a lifetime, even in constant exposure to the elements.
"Galvan is happy to be involved in this skyline-changing project," said Laurens Willard, president of Galvan Industries, Inc. "We're proud to be a part of making and keeping Charlotte beautiful."
About Galvan Industries, Inc.
Since 1958, Galvan Industries has provided the ultimate in corrosion control to steel fabricators and manufacturers. The first hot-dip galvanizing operation in the Carolinas, the company has grown to become the largest capacity contract galvanizer in the Southeast.
For details, or to place an order, call Galvan Industries at (704) 455-5102, Fax (704) 455-5215; e-mail: sales@galvan-ize.com.