Galvan Industries, Inc. recently celebrated the historic milestone of 60 years in business. Founded in 1958, Galvan was the first hot dip galvanizing operation in the Carolinas. Current and former employees and customers gathered at the Galvan plant in Harrisburg, NC on Friday, September 28 – Steel Day – for barbecue, music, plant tours, employee awards and raffles.
"It's exciting for me to see Galvan reach the sixty year mark," stated Laurens Willard, president. "The company has certainly surpassed what was envisioned back in the fifties. We've become a trusted partner with dozens of companies in many industries. We have a loyal customer base that relies on the quality of our process, our products and our people."
The Willard family has led Galvan since the company was acquired by Charles and Clarence Willard in 1958, as a subsidiary of Willard Industries. Willard Industries was a lead smelter and specialty fabricator located in Charlotte.
Galvan's original hot-dip galvanizing plant was equipped with a 10′ x 3′ x 4′ zinc kettle and was suitable only for relatively small parts. In the years since, the company has invested in numerous expansions to become one of the largest capacity contract galvanizers in the Southeast.
In addition to providing lifetime rust prevention to steel fabricators and manufacturers, Galvan also supplies ground rods, grounding clamps, connectors, installation tools and accessories to the electrical, electronic and utility industries. Galvan manufactures a complete line of ground rods – copper-coated, galvanized, solid copper and stainless steel – at the Harrisburg plant.
Galvan electrical products are used in residential, commercial and industrial applications, including construction, cable TV, lightning protection, power transmission and telecommunications across the USA.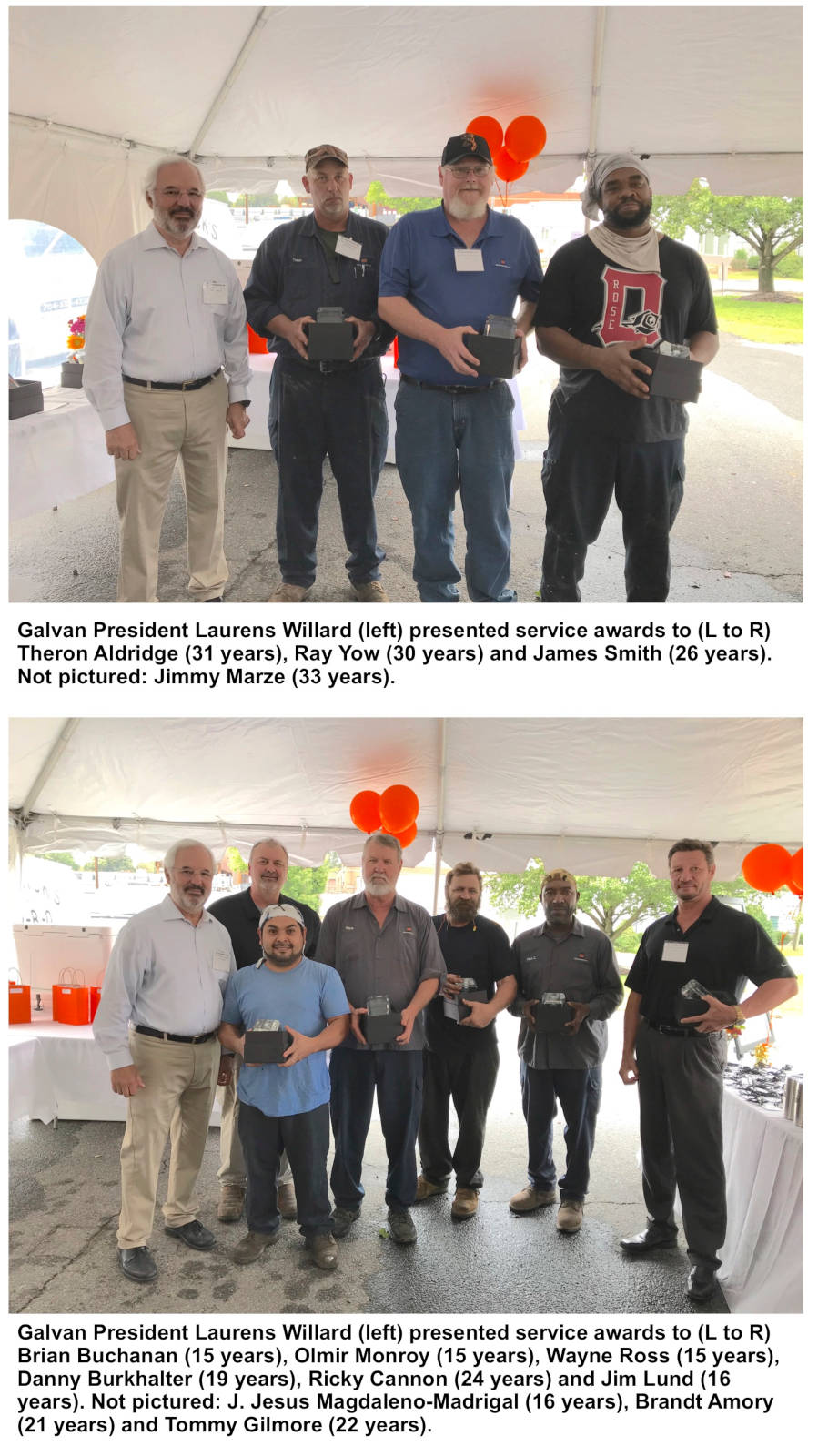 Employee Recognition
The following employees were recognized for 25 or more years of dedicated service to the company. In addition to their awards, this group also received large YETI coolers as a gift from the company.
Jimmy Marze – 33 years
Theron Aldridge – 31 years
Ray Yow, Jr. – 30 years
James (J.B.) Smith – 26 years
Galvan also recognized several employees with 15 to 24 years of service.
Ricky Cannon – 24 years
Tommy Gilmore – 22 years
Brandt Amory – 21 years
Danny Burkhalter – 19 years
J. Jesus Magdaleno-Madrigal – 16 years
James Lund – 16 years
Wayne Ross – 15 years
Brian Buchanan – 15 years
Olmir Monroy – 15 years
Prize Winners
Two large prizes were given away in drawings at the celebration. The first drawing was held for employees only. The second drawing was for customers.
The prize for the employee raffle was a 2002 Toyota Camry. Kenneth Ferrell, third shift employee in the galvanizing plant, held the winning ticket.
The customer prize winner was Kent Walker of Con-Tech Systems, who took home five Silver Club Level tickets and a parking pass to the Carolina Panthers October 28 home game against the Baltimore Ravens.
For more information, contact Galvan Industries by phone at (704) 455-5102 or by fax (704) 455-5215. Visit Galvan Industries on the Web at www.galvan-ize.com, or www.galvanelectrical.com for electrical products information.