Page 6 - The Best in Galvanizing - Galvan Industries
P. 6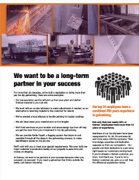 We want to be a long-term
partner in your success
For more than six decades, we've built a reputation on doing more than just hot dip galvanizing. Here are some examples.
• Our transportation service will pick up from your plant and deliver finished material to your job site.
• We work with an on-site fabricator to make adjustments if needed, as an alternative to returning material to the customer for rework.
• We've created a local alliance to handle painting for duplex coatings.
• We can blast clean your material and cut it to lengths.
• We'll hold seminars at your location and share design tips that will help you get the most from your investment in hot dip galvanizing.
• We can provide Kettle Tags®, a tagging system that stays on and readable through all the steps in the galvanizing process, to make identification easier on the job site.
We'll work with you to meet your special requirements. We even built one major customer a production facility on our property to save time and money on shipping.
At Galvan, we want to be partners in your success because when you succeed. we succeed. If you need a galvanizer that thinks outside the kettle, call Galvan Industries.
Our top 24 employees have a combined 450 years experience in galvanizing.
Not only that, but nearly 25% of Galvan employees have more than 10 years of experience.
Members of our hot-dip team have been recognized for 15, 20, 25 and even 30 and more years with the company. Their knowledge, expertise and dedication separate us from our competitors. Our people and their dedication to a job done right keeps our customers coming back. If you're already a Galvan customer, you know. And thank you. If you're not a Galvan customer yet, give us a call. See the difference experience makes.