Page 5 - The Best in Galvanizing - Galvan Industries
P. 5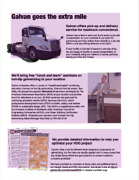 Galvan goes the extra mile
Galvan offers pick-up and delivery service for maximum convenience
Galvan has a fleet of semi and short trucks to provide transportation for your materials to our plant for
galvanizing and then deliver them directly to a job site within a one day driving distance of our plant.
If your facility or job site is beyond a one day drive, we are happy to handle or quote transportation of your materials using our network of carrier partners, saving you time and money.
We'll bring free "lunch and learn" seminars on hot-dip galvanizing to your location
Galvan Industries offers a variety of "Lunch and Learn" continuing education courses on hot-dip galvanizing. Galvan's hot-dip expert, Ben Kelly, will present the popular Galvanize It! seminars developed by The American Galvanizers Association (AGA) at your location and provide lunch for attendees at no cost. All AGA seminars are approved for continuing education credits (CEU), learning units (LU), and/or professional development hours (PDH) in health, safety, and welfare (HSW) or sustainable design (SD). The AGA is a registered provider with the American Institute of Architects (AIA), American Council for Engineering Companies (ACEC), and Green Building Certification Institute (GBCI). Schedule your seminar now! Contact Hot Dip Galvanizing Sales Manager Ben Kelly at 704-455-5102..
We provide detailed information to help you optimize your HDG project
Certain rules must be followed when designing components for galvanizing, but the rules are readily applied and in many cases they
are simply those which are good practice to ensure maximum corrosion protection.
We have provided an overview of those rules and additional tips in our Design Guide and FAQ documents. Download it now at https:// galvan-ize.com/services/#HDG or request a printed copy.