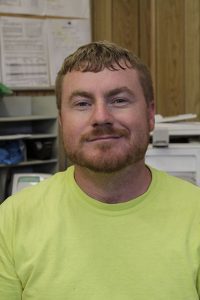 Don Smith has covered a lot of ground, first in the Marine Corps and then 14 years of driving trucks. When he started at Galvan three years ago, it was again as a driver. Today, Don is in charge of Quality Assurance, inspecting up to 320,000 pounds per day of galvanized steel.
Don inspects finished galvanized material to ensure it meets customers expectations and industry standards before it leaves the facility. Every morning begins with inspection of work completed during the second shift the night before.
MEASUREMENTS
This includes "mil readings" or coating measurements with a magnetic thickness gauge to ensure the proper thickness of the zinc coating according to the applicable ASTM standard. The specifications, such as ASTM A123 Standard Specification for Zinc (Hot-Dip Galvanized) Coatings on Iron and Steel Products, provide minimum zinc coating requirements for given material classes and measured steel thicknesses.
VISUAL INSPECTION
An inspection of finish and appearance is done with an unmagnified visual observation of all parts and pieces of a hot-dip galvanized product or assembly to ensure specification requirements have been met.
Several factors can affect appearance of hot-dip galvanized coatings. Some of these factors can be controlled by the galvanizer while others cannot. It is important to note that the appearance of the hot-dip galvanized coating can vary from piece to piece, and even section to section of the same piece – from bright and shiny to spangled to matte gray – but these variations have no bearing on corrosion protection.
Don's visual inspection process is to fully observe galvanized surface conditions (both inside and out) and to check all contact points, welds, junctions, and bend areas for proper coverage and adhesion. He pays special attention to surface conditions, looking for things like for bare spots, delamination or drainage spikes that need to be addressed before shipping.
If any problems are identified, Don works closely with managers and supervisors to find the proper solution. He also performs regular audits to ensure that Galvan's established standards of quality are maintained. In addition, Don handles several administrative duties, assisting the plant manager in preparing production and quality reports, and helping manage the shipping of finished materials.
"Don is a key member of our hot dip galvanizing team," says Galvan President Laurens Willard. "His work here pays dividends in high customer satisfaction."
Still covering ground today, Don likes to spend his free time enjoying the great outdoors.